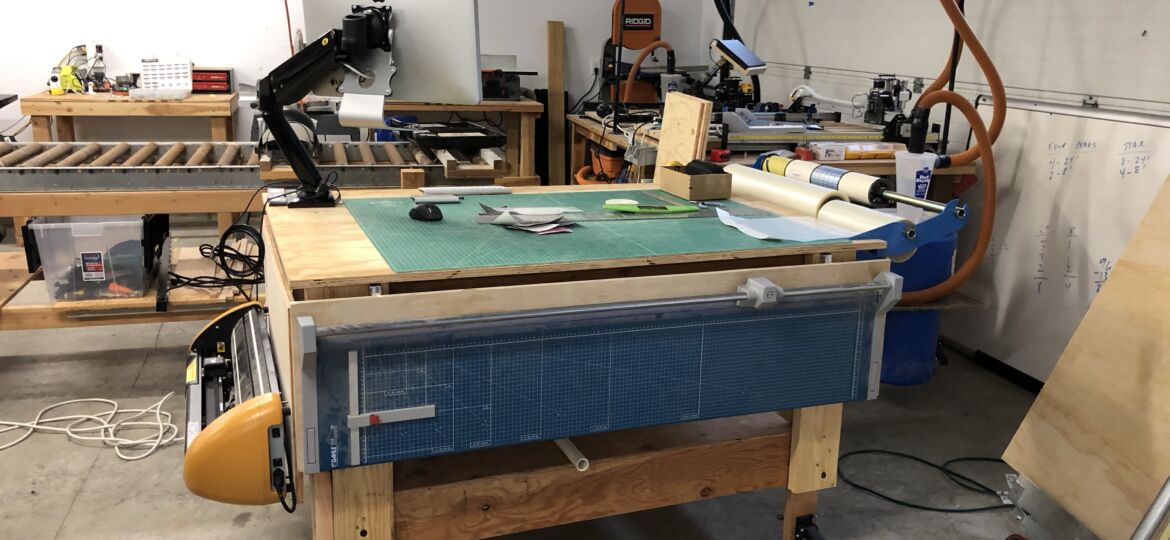 I hired one of McKenzie's classmates, David, to help me move MakerCave. I remember helping my godfather in eighth grade help build an second floor addition to his home and how much I learned during that time. I wanted to provide the same opportunity to someone as my godfather had done for me.
One of the things I wanted in the new MakerCave was to get as much on wheels as possible. This included the vinyl cutter work space. I asked David to install work table casters on the work table.
I also wanted to consolidate the two work tables into one and was able to achieve that with folding shelves. The cutter was mounted onto a folding shelf on the end of the layout table. I also move the vinyl roll holder to the bottom of the folding shelf to conserve space.
It folded out of the way nicely.
Then I mounted my 58″ paper cutter to the side of the table.
It also folded out of the way as nicely as the cutter.
Overall, I am happy with how it turned out, freely up some much needed floor space. It will allow me to move the vinyl cutting work space out of the way as I work on other things.