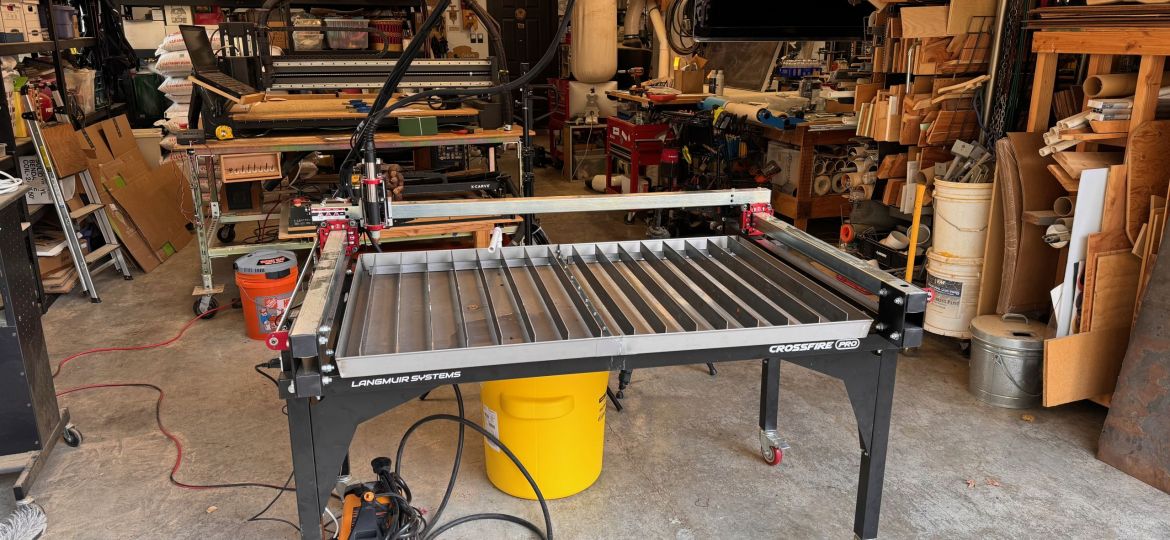 As a maker and creative enthusiast, I'm always on the lookout for new tools and technologies that can help me expand my horizons and explore new avenues of expression. Recently, I had the exciting opportunity to add the CrossFire Pro CNC Plasma Cutter to my arsenal, and I couldn't be more thrilled with this powerful addition.
The Allure of CNC Plasma Cutting
I always found the union of wood and steel fascinating. The ability of CNC plasma cutting to precisely cut intricate designs of rugged metalwork has the potential to unlock a whole new world of creative possibilities. With the CrossFire Pro, I envisioned myself crafting personalized gifts, creating unique home décor pieces, and  venturing into other DIY projects.
First Impressions: A Robust and User-Friendly Machine
Upon unboxing the CrossFire Pro, I was immediately impressed by its sturdy construction and well-organized components. The assembly process was straightforward, thanks to the clear instructions and helpful online resources. Within a few hours, I had the machine up and running, eager to test its capabilities. However, before running my first project on the machine, there were a couple of things I needed to address.
Filling and Draining the Water Table
Water and steel don't mix, and cutting steel is a messy affair, much different from the sawdust I am familiar with. I needed a workflow that made the clean-up process easy and simple. There were a couple of design issues I needed to address:
The water table drains sat proud on the table's surface, not allowing water to drain completely. I had to "dimple" the drains so that they were flush with the table's surface. I purchased a 1″ hole punch/dimpler from Amazon.

I replaced the 1/4″ plugs with valves to allow for quick and mess-free draining.

I plumbed the two water table drains together, so that they would drain into a 20-gallon drum. The water would be strained for cutting debris and waste. I installed a submersible pump in the drum to refill the water table when I was ready to use the CNC plasma cutter, controlled with a smart outlet and timed automation activated by a smart device.
Cutting My Teeth with the CrossFire Pro
I still have yet to cut my first project, but I am looking forward to venturing into intricate designs, experimenting with different materials and cutting depths. The machine's versatility and ease of use seems that it will allow me to seamlessly transition from cutting delicate wood patterns to creating bold metal artwork.