Norman Maclean Quote Trout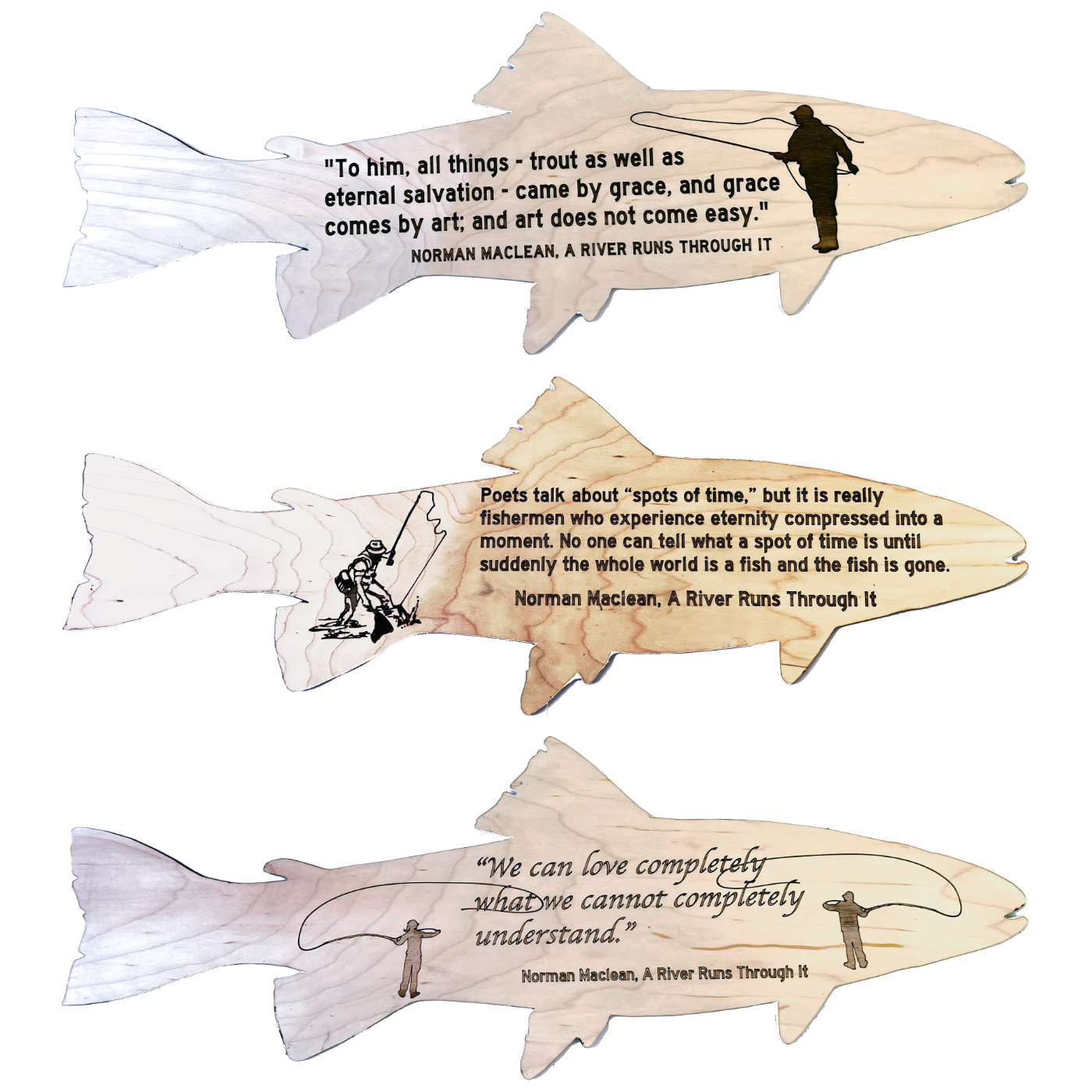 Norman Maclean Quote Trout
$50.00
Honor the timeless wisdom of Norman Maclean, author of the beloved fishing memoir "A River Runs Through It," with our exquisitely laser-engraved wooden trout. This unique piece of art captures the essence of Maclean's words, reminding us of the enduring beauty and tranquility of nature.
Display the wooden trout as a decorative piece in your home or office, allowing its natural beauty and meaningful message to inspire and uplift you.
A Thoughtful Gift for Anglers and Literature Enthusiasts Alike
The laser-engraved wooden trout makes a perfect gift for anglers who appreciate Maclean's profound insights into the sport of fishing. It also serves as a cherished keepsake for literature enthusiasts who hold Maclean's words close to their hearts.
Features:
Crafted from high-quality 1/4" clear coat maple plywood, ensuring durability and long-lasting enjoyment.
Meticulously laser-engraved with a Norman Maclean quote, showcasing the writer's poignant words.
The trout measures 8" tall and 21" long.
Choose from one of the three following quotes:
Art Not Easy Quote: "To him, all good things—trout as well as eternal salvation—come by grace and grace comes by art and art does not come easy."
Poets Quote: "Poets talk about "spots of time," but it is really fishermen who experience eternity compressed into a moment. No one can tell what a spot of time is until suddenly the whole world is a fish and the fish is gone."
Love Quote: "We can love completely what we cannot completely understand."
| | |
| --- | --- |
| Weight | 1 lbs |
| Dimensions | 22 × 8 × .5 in |
| Quote | Art Not Easy Quote, Poets Quote, Love Quote |
| Size | The trout measures 8" x 21". |
Only logged in customers who have purchased this product may leave a review.